A sincere welcome to our five new members!
Jim Borre, Ray Chapa, Maureen Grindlay, Arthur Jacob, and Jim Wood
* * * * * *  10TH  B I R T H D A Y  P A R T Y  F O R  D P I – S I G  * * * * * *
Congratulations, Bill Coakley & Sonny Saunders!!!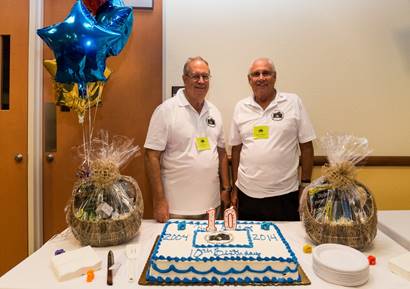 Damaris Gonzalez, Social Director, hosted a great party for DPI-SIG's 10th birthday. There were no leftovers! What started in 2004 as an idea by Bill Coakley and Sonny Saunders has grown to a very successful digital camera club that encompasses all levels of photographers from the surrounding areas. Approximately 120 members and guests enjoyed the festivities. In addition to the regular door prizes, 3 special baskets of door prizes were given to these lucky winners: Linda Lapore, Helen Skerry, and Michael Schleider. Many thanks to all the volunteers who have made this digital camera club what it is today. Here's to the next 10 years!
M O N T H L Y T H E M E S L I D E S H O W
Our slideshow producer, Jeff Bilyeau, was on vacation but Christine Cook graciously accepted to step in and present our monthly theme photos of: " A M E R I C A N A" for our 120th meeting. The slideshow included 161 images and 2 video clips submitted by 32 members. Thank you to every member who participated. Christine did a great job and kept everyone's toes tapping throughout the slideshow with the special patriotic music. Christine uses iMovie software (an Apple product) for her slideshows. The photos shown at the meetings will also appear on the web site's page of slideshows. http://www.dpi-sig.org. Note: These shows require a PC type computer that can run Pro-Show Gold software. Check Jeff Bilyeau's new workshop below on how to make slideshows (check under Special Interest Groups).
M E M B E R S I N T H E N E W S
The following DPI-SIG members had their pictures accepted in the "2014 CAMERA USA: National Photography Award and Exhibition" to be held in the von Liebig Center from August 11th through September 26th: Dave Bosworth, Christine Cook, Art David, Dennis Goodman, Sandee Harraden, & Bob Kenedi.
In addition, Sandee Harraden had her image "Sunrise Together" used in the August issue of the National Audubon Calendar, and she had a two-month solo exhibit at the CT Audubon Center at Pomfret.
Harold Kurzman had 3 images published in the July 9th issue of the Bonita Banner Weekly, Arts and Leisure Section. The Topic was "Street Photography".
G U E S T P R E S E N T A T I O N
Curator Jack O'Brien has been with the Naples Art Association for more than a decade. He presented the history of the NAA which is 60 years old, founded in 1954 by artists. Grace Lake was its first president. Jack oversees exhibitions at The von Liebig Art Center and the NAA's collection of nearly 200 works in all media by artists who have lived in or had a connection to Florida. In addition, he has been active on the local and state levels judging art competitions, serving as chairperson for the City of Naples Public Art Advisory Committee and acting as a grant panelist for the Florida Division of Cultural Affairs in Tallahassee. On February 28, 2013, he received Collier County's highest award recognition for art leaders in our community. He was selected by the United Arts Council of Collier County as one of the 2013 Stars in the Arts. The von Liebig Art Center in Cambier Park opened in November 1998. It has 16,000 square feet, classes, lectures, art library, exhibitors, youth scholarships, outdoor festivals. The galleries are open all year with free admission.
F. Y. I.
Bob Brown encouraged members to view Issue #2 of the DPI-SIG Magazine, which was be published July 1, 2014, and installed on our web site. Please feel free to send your images to Bob for the subsequent issues. He likes to stay ahead by a couple of issues and not be pressured by the deadlines. To contact Bob about writing an article, submitting photos, or questions about the ads, contact: dpi-editor@naples.net. And PLEASE check Issue #2 on our website!
Have you ordered your Polo shirts? Call SEW SHORE UNIFORMS at (239) 774-4655, extension 03 and ask for Becky Main to order your shirt. Price will vary, depending on number of orders, but generally figure on $40 per shirt (Add $2 for 2XL and $3 for 3XL. SEW SHORE UNIFORMS is located on 3845 Beck Blvd, Units 809/810, Naples FL 34114. Beck Blvd. is the extension of Davis after crossing Rt. 951 (Collier Blvd) on the way to Cracker Barrel Restaurant. DPI-SIG will NOT be taking orders for shirts. It's up to members to order on their own or get together with several members to order at once. It would be beneficial to go to the store and try on a sample shirt to make sure of the correct size. Notice the women's & men's styles.
Women Men
D P I – S I G A R T S H O W N E W S
Our next DPI-SIG Art Show is scheduled for September 2014 at the Collier County Naples Regional Library on 650 Central Avenue, Naples FL 34102. Get ready for the next show! You will be sent information this week about preparations and requirements for the Art Show.
F C C C 2 0 1 5 C O N F E R E N C E
Don Fischer gave a reminder of the FCCC 2015 Conference to be held March 6-8, 2015, at Florida Gulf Coast University. We have a great lineup of twelve speakers. Please check the FCCC website, www.f3c.org, for a brief summary of the event and speakers. The Steering Committee met on June 25th to begin planning the promotion of the conference along with development of a conference website which will be up and running by November 1, 2014.
2014 C O M P E T I T I O N S C H E D U L E S
DPI-SIG
3rd Competition: August 14 – September 11, 2014, Theme" "The Event" – Images that display
expression/mood of a recognizable, significant or notable occurrence. No geographic limitation.
Winners will be announced at the October 9, 2014 meeting. Year-End Competition winners will be announced at the December 11, 2014 meeting.
FCCC Digital Competition FCCC Print Competition
2nd Tri-Annual: July 1 – July 31, 2014 3rd – Due October 3, 2014
3rd Tri-Annual: Oct 1 – Oct 31, 2014
Check the detailed guidelines on the web site: f3c.org
O U T I N G N E W S
HITEK IMAGING TOUR
Led by DPI-SIG Member, Curtis Tackett
Monday, July 21st, 10:30 a.m. to 11:30 a.m.
Limited to 30 DPI-SIG Members ONLY – Sorry, THIS OUTING IS FULL – We have a waiting list!
HITEK Imaging is our area's only full service digital printing lab. Curtis will explain how to reproduce your images using archival quality inks on matte, gloss, or metallic finish paper. Learn how images are transferred to tile, metal sheets, glass, acrylic, etc. You take the photo, and process it in Lightroom or Photoshop! HITEK will tweak the file and reproduce it the way you want! You enter the Naples Art Fair and sell it! If you miss this outing, make sure you visit HITEK for your printing needs.
MEET AT THE NAPLES PIER
Friday, August 29th, 7:15 p.m. to 9:30 p.m.
Limited to DPI-SIG Members and good friends
On Friday, August 29th, the sun sets in the west, darkness descends, and the waxing crescent moon drops below the horizon, completing yet another beautiful day in Naples. Use the last sentence to begin your novel or to take advantage of lots of opportunities for fabulous photographs with the Naples Pier in the background. Take a shot of your friend holding a bowl catching the crescent moon….
Sunset: 7:50 p.m.
Astronomy Darkness Descends: 9:08 p.m.
Moonset: 10:14 p.m.
You even have the opportunity to see the Milky Way. All of the individual stars that we can see with the eye are in the Milky Way Galaxy which is easier to see in the summer time. After 9:00 p.m. on August 29th should be good viewing, if one looks overhead. You may have to walk down the beach away from lights. At our last Pier Outing, Art David took an amazing shot of the Milky Way over the heads of two people sitting on the pier bench near the stairs.
Contact Ron Perkins, Outing Director, at dpi-outing@naples.net to register for the outings.
Images for the outings are posted on DPI-SIG's web site: http://www.dpi-sig.org, Click on Member Galleries, click on Outings. Do the same to see previous outing photos.
V E N D O R D I S C O U N T P R O G R A M
Thanks to Don Fischer, Vendor Relations Coordinator, our discount program is VERY active! We currently have 18 vendors offering discounts to our members. For details about the program, the vendors, the available products, and how to obtain the discounts, check out our DPI-SIG Member Discount Program page on the DPI-SIG website: www.dpi-sig.org, click on Member Activities in the bar across the top of the page, and then select Membership Discount Program. Don is continually working to add more vendors to the program, so regularly check the website for updates. If there's a vendor you would like him to contact, let Don know: dpi-venco@naples.net. We need to support these vendors, who are kind enough to offer us a discount!
S P E C I A L I N T E R E S T G R O U P S – MEMBERS ONLY!
DPI-SIG PHOTOGRAPHY ROUNDTABLE will be held on Thursday, July 17, 2014, from 6:00 to 8:00 p.m. Location is upstairs at 5029 Tamiami Trail East in the Village Falls complex. The Roundtable is an informal and friendly gathering of club members (beginner and advanced) to talk about anything dealing with digital photography and imaging. You might have a question or two about buying a new digital camera, or you may have a new camera that you'd like to "show and tell" the group. Maybe you are having a photo-editing problem, or a computer question you'd like to get some input. Bring your questions, answers, solutions, discoveries, prints, equipment, and ideas to share with the group. The floor is OPEN to have fun and talk about anything related to digital photography in this no-pressure, congenial atmosphere. You must make a reservation because space is limited.
STUDIO WORKSHOP GROUP (SWG)– Note: No studio session is scheduled for this month. This specialized group focuses on studio photography and lighting, and is a "hands-on" learning experience in a fully-equipped, Class -A, photography studio. This group is enjoyed by novices and experienced photographers; it's informal and fun! There is plenty of room for new members who want to see what lighting will do to enhance their photography. The monthly donation required to be involved in this group is now $15/mo., which covers the costs of studio rental and models. If you're interested in participating in the Studio Workshop Group at a later date, please contact Co-Director, Tom Cunningham at dpi-studio@naples.net. Reservations only!
PHOTOSHOP USERS GROUP (PUG) will meet on Wednesday, July 23, 2014, at the Unitarian Universalist Congregation of Naples Florida, 6340 Napa Woods Way, Naples 34116, from 6:00 to 8:00 p.m. This group, led by Richard Tindell, is open to any member who has or doesn't have Photoshop and will cover all versions of Photoshop.
The group meetings are held on the 4th Wednesday of each month at the Unitarian Universalist Congregation of Naples Florida, 6340 Napa Woods Way, Naples 34116, from 6:00 to 8:00 p.m. Join us to better understand and use this powerful post processing tool At the last meeting in June, time was devoted to feedback comments by the attendees resulting in a new structure for future meetings. We will divide the meeting into three parts: 1 – Using Scott Kelby's book "Photoshop for Digital Photographers" as a reference and guide, we will progress chapter by chapter, learning and reviewing what we have learned. 2 – One or two Panel Member(s) will cover selected subjects. The intent is to have attendees input their requests ahead of the meetings. Why not decide right now to attend the next meeting, and send that e-mail with your suggested topic to: dpi-pug@naples.net 3 – Question/Answer. Ask any topic related to Photoshop work. If we don't know the answer, then we will research it for the next meeting. Whenever possible, the meeting announcement will include the topics planned under items 1 & 2, and backlog items will be prioritized at the meetings. There is plenty of room to attend, no prior notice required, but an e-mail with suggested topics is appreciated. Feel free to bring your laptop to the meeting. No reservation necessary; plenty of seating is available. For directions, see the map at: www.uunaples.org.
ELEMENTS USERS GROUP will also meet on Wednesday, July 23, 2014, at the Unitarian Universalist Congregation of Naples Florida, 6340 Napa Woods Way, Naples 34116, from 6:00 to 8:00 p.m. This Elements group is led by Christina Skibicki and will cover all versions of Elements, and continue to focus separately on starter/beginner level topics. Please bring your own laptops. No reservation necessary, plenty of seating is available. For directions, see the map at: www.uunaples.org.
LIGHTROOM USERS GROUP (LUG) will meet on Thursday, July 24, 2014,, from 6:00 – 8:00 p.m. at Understand Photography (Peggy Farren's studio) 2383 Linwood Ave., #302. You will be receiving an email of the meeting. Due to limited space, seating is on a first-come basis. Please do not respond until after you receive your email invitation.
PRO SHOW USERS GROUP (PSUG) will meet on Monday, July 28, 2014. This is a fairly new workshop that will help you make a slideshow of your images. Jeff Bilyeau is the coordinator for this group and is well known for creating amazing slideshows for our meetings every month. Learn from the master! Location is at the Understand Photography studio (Peggy Farren's) 2383 Linwood Ave., #302. You must make a reservation because space is limited. dpi-proshow@naples.net
WOMEN'S WORKSHOP: The next workshop will be Thursday, August 7, 2014, 6:00 – 8:00 p.m. Topic will be "Tabletop Photography Basics" and will cover basic tabletop lighting instructions, but not with the old-fashioned hot lights. Come join us as we show you some new tips and tricks for using less-expensive cool LED lights. Not off-campus as previously announced, but at our regular meeting place at CrossRoads Church, 1005 Pine Ridge Road (west of Goodlette Rd.), Naples. After our demonstration, we'll have hands-on shooting of our objects at several stations (maybe an apple, a teacup, a piece of jewelry, and a flower). Bring a camera and tripod. If you want to stay later to use our set-ups for your objects, please bring them. Nora Peek is in charge of this presentation.
HOMEWORK: Send up to 4 images that were enhanced by using brushes based on the demonstration at the June 5th meeting by Christine Cook and Nancy Springer on "Step-by-Step Brushes." The deadline for sending images is July 31st and emailed to: Christine Cook dpi-wwshop@naples.net.
No reservations needed; and men are welcome!
D P I – S I G L I B R A R Y
DPI-SIG LIBRARY: We now have over 100 items in our DPI-SIG Members' Photography Training Library. If you have any photography training CD's or DVD's that you are no longer using and would like to donate to the DPI-SIG Members Library, please send an email to dpi-library@naples.net and we will arrange to pick them up. You may also bring your donation(s) to the monthly meeting. Go to the website and check the list of available instructional media available to members. Your selection will be delivered to you at the next monthly meeting.
D P I – S I G F A C E B O O K P A G E
DPI-SIG FACEBOOK PAGE: We have a Facebook page for members. It's a "secret page", which means you will have to find a friend to invite you to the page. If you don't know a member who is on our page, contact Randi Rush Morse, gtowndazi@aol.com, and she will be your friend! Randi is our Facebook Page Coordinator, and will have Evelyn Perez helping her post announcements and keep our DPI-SIG Facebook up to date. This is a great place to share ideas, photos, tips, and events with other members. https://www.facebook.com/groups/dpisig/?fref=ts
G L O S S A R Y T E R M S
This month's Glossary terms: "FPS (FRAMES PER SECOND)" – Is the measurement for how many unique consecutive images a camera can capture in a second. Low-end digital cameras typically have a frame rate of 2 to 4 frames per second, while high-end digital cameras might have frame rates as high as 12 to 15 frames per second.
"FRAME RATE: – also known as frame frequency: Basic video term. There are three main frame rate that are standard in video: 24fps is the standard for movies (cinematic look) and is the minimum necessary for the "persistence of vision", which makes movies look continuous rather than jerky. 30fps is the standard video frame rate, and produces a smoother look. 60fps allows you to playback at 30fps for smooth half-speed slow motion.
Last month's Glossary term: "GRAY MARKET": Products that are not imported by the official U.S. importer, but come into the country through other channels. Gray market items are perfectly legal but may carry different model designations and do not carry a U.S. warranty or are eligible for discounts, rebates or other special offers from the U.S. importer. These items can be priced 10 to 20 percent below U.S. market or street value.
Please check the glossary on our web site for more digital photography terms!
N E X T M O N T H ' S T H E M E
Next month's theme is: " C H I L D ' S P L A Y" Members are eligible to submit 6 pictures or a 2 minute video to: dpi-theme@naples.net. Please follow the procedure for renaming and resizing photos. Refer to: dpi-sig.org and click on "Topic of the Month". Please follow these guidelines: Use your name only and the order number you want the images shown. Title is NOT needed! E.g., John Doe_01, John Doe_02, etc. Please do NOT send zipped files. If you like to plan ahead, theme topics for the entire year are listed on our web site.
COMPETITIONS, EXHIBITIONS & PHOTO OPPORTUNITIES
Exhibition: Several DPI-SIG members have images hanging at Nocera Photographic Studio & Gallery, 419 Santa Barbara Blvd., Cape Coral FL 33990 (across from Sun Splash Park). A reception was held on Sunday, June 29, 2014. The Gallery is open the entire month of July, and hours are Noon to 5:00 p.m. Monday thru Saturday, and/or by appointment. (239) 458-5100.
Exhibition: R. J. Wiley's "Photographs of Corkscrew Swamp" will be hanging through July 31, 2014, on Monday – Sunday, 7:00 a.m. – 5:30 p.m., at 375 Sanctuary Road West, Naples. 239-348-9151. Admission is $12 adults; $4 children. http://corkscrew.audubon.org/
Exhibition: "Images of Immokalee" – Explore the history of Immokalee and its surroundings featuring photographs from the 1950s to the 1970s. Display is available through August 29, 2014 at the Immokalee Pioneer Museum, 1215 Roberts Avenue, Immokalee, from 9 a.m. to 5:00 p.m. Mondays – Fridays. 239-658-2466.
Exhibition: "2014 CAMERA USA: National Photography Award and Exhibition" of 46 photographers to be held in the von Liebig Art Center, 585 Park Ave., Naples, from August 11 – September 26, 2014. Reception is scheduled on August 8, 2014, from 5:30 – 7:00 p.m. Several DPI-SIG members have photographs in this exhibition. Naples Art Association members free; Non-members $10.00. This annual competition features recent work by photographers residing and shooting in the United States. A single award of $5,000 is awarded to one photographer. This exhibition has proven to be well-received and highly representative of a variety of photographic styles, from collages and digitally-enhanced images to purist black and white images and casual snap shots. This exhibit attracts large preview reception crowds, strong media attention and creatively daring art talent. It shows no sign of slowing down! http://www.naplesart.org
Competition & Exhibition: The intake for "Pictures in Process: Photography by Naples art Association Members" will be Sunday, July 27th and Monday, July 28th. Exhibition is open to all types of photography. Up to two recent photographs may be entered for the jury process. Entry forms will be provide during receiving. There is a $15 entry fee for one or two works. Membership in the NAA is required. David Albers, photojournalist for the Naples Daily News, will be the juror. Preview reception is Friday, August 8, 2014, from 5:30 to 7:30 p.m., Non-Members $10. Exhibition Opens Monday, August 11, 2014, to Friday, September 26, 2014. http://www.naplesart.org
Competition & Exhibition: The intake for a Juried Call to Artists (all media) for "Over the Bridge: Your Vision of Marco" takes place on July 31, 2014, from 10 a.m. to Noon. Reception scheduled for August 12th from 5:30 to 7:00 p.m., with pickup August 27 & 28, 2014. For more information, call the Marco Island Center for the Arts, 1010 Winterberry Drive, at 239-394-4221, or visit the Center's website: www.marcoislandart.org.
Competition & Exhibition: The intake for a Juried Call to Artists for "Architectural Photography: Form & Function" takes place on August 25, 2014 from 10 a.m. to noon. Reception will be September 9, 2014 from 5:30 – 7:00 p.m., with pickup September 24 & 25, 2014. For more information, call the Marco Island Center for the arts, 1010 Winterberry Drive, at 239-394-4221, or visit the Center's website: www.marcoislandart.org.
Exhibition: "Enchantments: The Photographic Adventures of Julian Dimock and Clyde Butcher," is a rare exhibit featuring early 20th-century photographs of Southwest Florida by Julian Dimock paired with select works by renowned modern photographer Clyde Butcher, comparing and contrasting the region's remote landscapes 100 years apart. More than three dozen pivotal, black-and-white images by these two adroit photographers, who journeyed a century apart, document the region's untamed wilderness. Open on Tuesdays – Saturdays through September 6, 2014, from 10 a.m. to 5 p.m. at the Southwest Florida Museum of History, 2031 Jackson Street, Fort Myers. Admission: $9.50 adults; $5 students. Presentation by Clyde Butcher on August 27, 2014, at 6:00 p.m. 239-321-7430. www.swflmuseumofhistory.com
Photo Op: Corvette Car Show on July 19, 2014, from 4:00 to 7:00 p.m. at the Seminole Casino, 506 S. First St., Immokalee. 239-658-1313.
Photo Op: The 6th Annual Fishermen's Village Pirate Festival is where droves of pirates invade the waters of Charlotte Harbor and are making plans to be part of this year's festivities held July 25 – 27, 2014, in the waterside town of Punta Gorda. Each year the Mayor of Punta Gorda officially proclaims this fun city as "A Quaint little fishing village with a pirate problem". During this last weekend in July, pirates and pirates at heart visit Fishermen's Village to plunder and pillage the local shops, restaurants and the vast array of vendors at this family & pet friendly Pirate Festival. The 6th Annual Fishermen's Village Pirate Fest hosts a variety of free Pirate Themed activities and events throughout the 3-day weekend. There will be an abundance of pirate characters and beautiful mermaids, a living history pirate encampment, live entertainment and lots of exciting interactive games for both the young and old to enjoy.
One of the many highlights of this festival is the pirate flotilla and invasion where boaters from around the area go all out decorating their vessels to compete for cash prizes, trophies and bragging rights. The excitement builds as the participating flotilla boaters threaten the dockside patrons with an assortment of water weapons. The melee begins with the attacking boaters being met with opposition from a barrage of super soakers fired by patrons from the docks. Meanwhile, pirates with an arsenal of real cannons and black powder weapons ultimately repel the attacking flotilla in a smoke-filled exhilarating battle in the fun infested waters of Charlotte Harbor. 941-639-8721 www.fishermensvillagepiratefest.com
For Sale: CAPTURE NX2 software editing program for Nikon users for sale. Box opened but never used. Mac or PC. $150.00/obo. Email if interested skibicki@aol.com.
Wanted: As most of you are aware, we have been attempting to video and broadcast DPI-SIG meetings on our website so that our snowbird members can see what they are missing. We have been unable to get the video camera we had available to work with a computer. Would anyone have a video camera we might use for this project? If so please email to dpi-sig@naples.net.
P H O T O G R A P H Y W O R K S H O P S & C L A S S E S
Check Peggy Farren's classes, guided tours and events. Her classes range from the beginner to the advanced photographer's needs. Classes sell out quickly – sign up early! There are discounts on class prices for early registration. Check her web site for directions, times and class descriptions: http://www.understandphotography.com/
July 2014
15 Composition $79/99
16 Four Weeks to Proficiency in Photography Online Course $297/497
19 Abstract Photography – Alliance of the Arts $125/160 (see Joe Fitzpatrick's details below)
20 Wedding Photography 101 with a "real" fake wedding $99/129
21 Table Top Photography $99
22 Flash Basics $79/99
29 DSLR 2 Intermediate $79/99
August 2014
2 Underwater Model Session in Peggy's Pool $49/69
To make your reservations, contact Peggy Farren at (239) 263-7001, or naplesportraits@gmail.com.
P H O T O R E P A I R: Peggy Farren's studio is now an Official Repair Depot representing Southern Photo Technical Service. Drop off cameras at DPI-SIG monthly meetings or Understand Photography, 2383 Linwood Ave., #302, off Commercial Drive, on Thursday 9:00 a.m. – 4:00 p.m. or Saturday 9:00 a.m. to noon. Cameras will be shipped for repair at an average cost of $25 roundtrip.
Workshop in Cape Coral
Cathy Nocera, Digital Artist and Owner of Fireflies Gallery,
Is offering a workshop in July, on creative art digital photography.
July 21-25, 2014 Five-Day workshop Cost $499
From photography to post-processing to embellishing the final canvas in decoupage style, create a personal masterpiece (canvas and materials included).
Location: Nocera Photographic Studio and Gallery; 419 Santa Barbara Blvd., Cape Coral FL 33991. Contact Cathy for registration: (239) 458-5100
************************************************************************************
Joe Fitzpatrick will be the instructor for the Abstract Photography Workshop (Ages 16+) on July 19, 2014, 9:30 a.m. to 1:00 p.m. The workshop will be held at the Lee County Alliance for the Arts, 10091 McGregor Blvd., Ft. Myers, FL 33919. (239) 939-2787. Cost: $125 for Alliance member/$160 Non-Member.
If you love abstract images, you will learn about off-camera lighting, high speed photography to freeze motion and more. There will be a fish tank with splashing bubbles, freeze water and milk drops, and create beautiful art with food coloring, oil, water and more! You'll leave with beautiful images, all the while learning about shooting in the manual setting with your DSLR. You will also learn how to trigger and position off-camera flash for best results in each situation. The best way to learn is by doing! A working knowledge of your DSLR camera is recommended. A DSLR camera with a standard hot shoe or adapter will be needed. www.artinlee.org (Sponsored by Understand Photography).
A N N O U N C E M E N T S
THE NEXT DPI-SIG MEETING WILL BE THURSDAY, August 14, 2014, AT 7 P.M.
at Florida SouthWestern State College (formerly Edison) in Building J.
DUES: Our membership dues are $30.00 per year. We also have a student rate for membership at $20.00, for age 18 and under. You will be notified by email when your dues have expired and need to be paid. Dues must be current to be included in the privileges of DPI-SIG membership, such as: Outings, Special Interest Groups (Photoshop Users Group, Lightroom Users Group, Pro Show Users Group, Studio Workshop Group, Roundtable, Women's Workshop), Art Shows & Exhibits, Vendor Discounts, Theme Picture submissions, DPI-SIG Competitions, FCCC Competitions, etc.
We request that you also continue to make a donation at each meeting, in the receptacle provided at the entry table, to help offset the rental cost. Many thanks to all who contribute each month.
Do you know of any family, friends, co-workers, or anyone with an interest in photography? Please feel free to bring them to our meeting and encourage them to join us! Most of our new members are referrals. Remember to use our DPI-SIG business cards and DPI-SIG brochures to invite potential members to our meetings. AND, don't forget to welcome new people at our meetings. Those of you who attend regularly know familiar faces, but don't forget the people who are at our meetings for the first time. We all like to feel welcome! Extend your hand and start talking photography!
Reminder: All Meeting Previews and Meeting Notes are posted on the website: http://www.dpi-sig.org/breaking-news. AND, if you want announcements posted in these Meeting Notes, please give the information in writing, either at the meeting, or by email before or immediately after the meeting, to Betty Saunders, saunders@naples.net.
A RECAP OF IMPORTANT DATES…MARK YOUR CALENDAR!
July 17 – DPI-SIG Roundtable @ 6 p.m., by reservation only
July 23 – Photoshop Users Group, no reservation needed
July 23 – Elements Users Group, no reservation needed
July 24 – Lightroom Users Group, by reservation only
August 7 – Women's Workshop, no reservation needed
August 12 – Deadline to submit Monthly Theme Photos "Child's Play"
August 14 – DPI-SIG Meeting @ 7 p.m., Florida SouthWestern State College, Building J
A SPECIAL THANKS TO OUR DPI-SIG & FCCC VOLUNTEERS
Warren Barber: Computer Consultant
Jeff Bilyeau: Monthly Theme Slideshow Producer; Pro Show Users Group Director
Jennifer Brinkman: FCCC Publicity Director
Bob Brown: Art Show Committee, DPI-SIG Magazine Publisher & Editor
Rosie Cabrera: FCCC Awards Coordinator
R. L. Caron: Studio Workshop Instructor
Bill Coakley: Co-Founder; Webmaster; Lightroom Users Group Coordinator; Art Show Committee
Ed Cohen: DPI-SIG Competition Committee
Christine Cook: DPI-SIG's FCCC Rep.& Print Comm., FCCC Digital Comp. Dir.; Women's Workshop Dir.
Ken Crague: DPI-SIG Critique Corner
Art David: Liaison, Naples Art Association; Art Show Committee
Laura DePamphilis: DPI-SIG Competition Committee Chairperson
Peggy Farren: Allows use of her studio for DPI-SIG workshops
Don Fischer: Vendor Relations Coordinator; Assistant Librarian; FCCC 2015 Conference Chairman
Joe Fitzpatrick: Meeting Photographer
Nancy Garrison: DPI-SIG Competition Co-Director
Damaris Gonzalez: Social Director
Eric Hansen: FCCC Executive Director, 2010 & 2012 Convention Chairman, Past President
Mark Helfgott: Sound Consultant
Pat Kumicich: DPI-SIG/FCCC Print Competition Committee
Harold Kurzman: Public Relations Director; DPI-SIG Competition Director (2009 – 2012)
Priscilla McGuire: Coordinator, Volunteer Photographers/Non-Profit Organizations; Art Show Comm.
Chuck McKinney: DPI-SIG Logo, Brochure & Business Card Designer
Elaine Michaelis: Liaison, Marco Island Center for the Arts
Randi Morse: Facebook Page Coordinator
Evelyn Perez: DPI-SIG/FCCC Print Competition Committee; Assistant Facebook Coordinator
Ron Perkins: Outing Director; FCCC President
Nic Provenzo: Art Show Committee
Larry Richardson: FCCC Digital Competition Director
Darleen Rowe: Studio Workshop Director
Betty Saunders: Membership Registrar; Art Show Committee; FCCC Secretary, Meeting Notes Editor
Sonny Saunders: Co-Founder; Roundtable Coordinator; DPI-SIG & FCCC Librarian; Art Show Comm.
Carmen Schettino: FCCC Print Competition Director
Marcel Seamples: Art Show Committee; FCCC Treasurer
Jennifer Semro: Art Show Committee
Christina Skibicki: Photoshop Elements Users Group Director
Nancy Springer: FCCC Southwest Florida Area Representative
Richard Tindell: DPI-SIG Competition Co-Director; Photoshop Users Group Director; Critique Director
Gwen Tyler: Assistant Membership Registrar
Remember, our camera club functions because of our volunteers. Please let us know what you are willing to do to help keep this a very active, thriving, energetic and fun group of photographers!
A very special thanks to Florida SouthWestern State College for the use of their great facility.
The following email addresses are for use by club members:
dpi-artshow@naples.net For members to contact the Art Show Director
dpi-askexpert@naples.net For members to ask questions online
dpi-compete@naples.net For members to email entries for DPI-SIG competitions
dpi-critique@naples.net For members to email critiques of images online.
dpi-editor@naples.net For members to contact the Editor of the DPI-SIG Magazine
dpi-library@naples.net For members to contact the Librarian
dpi-npphoto@naples.net For members to photograph Non-Profit Organization events
dpi-outing@naples.net For members to contact the Outing Director & email pictures from Outings
dpi-proshow@naples.net For members to contact the Pro-Show Director
dpi-pr@naples.net For members to send Publicity/Promotion items to the Publicity Director
dpi-sig@naples.net For members (or anyone) to send anything to the Club Founders
dpi-social@naples.netFor members to contact the Social Director
dpi-studio@naples.net For members to contact the Studio Workshop Director
dpi-theme@naples.net For members to email images for Monthly Theme slideshows
dpi-venco@naples.net For members to contact the Vendors Relations Coordinator
dpi-wwshop@naples.net For members to contact the Women's Workshop Director
http://dpi-sig.orgDPI-SIG Web site
http://www.f3c.org FCCC Web site
https://www.facebook.com/groups/dpisig/ DPI-SIG Facebook Page
DPI-SIG is a Special Interest Group of the Naples Free-Net, Inc., a 501c3 non-profit organization providing education and internet services to over 4,000 registered members and the public at-large. The Naples Free-Net is entirely run by volunteers and the only remaining Free-Net in the country.
DPI-SIG meetings are held, unless published otherwise, at 7 p.m. each second Thursday of the month at the Conference Center, Building J, of Edison State College, Lely Campus. Turn west onto Lely Cultural Drive, at the first traffic light south of Rattlesnake Hammock Road on Route 951 (Collier Blvd.).
Florida SouthWestern State College is a SMOKE-FREE CAMPUS!
Betty Saunders – Meeting Notes Editor