2022 Club Outings
January 2022 Outing [Slide Show Video]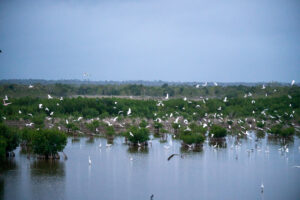 January 15-29 Marsh Trail, Ten Thousand Islands NWR [Slide Show Video]
The 1.2 mile Marsh Trail is about 20 miles SE of downtown Naples, off US 41 Tamiami Trail, 2 miles beyond Collier Seminole State Park (MAP). There is a viewing stand beside a shallow pond that offers feeding to a variety of birds (above). Flocks of egrets, herons and ibis often overnight there and depart in the morning, offering opportunities for capturing these birds in flight. Alligators are often spotted. A good time to arrive is just before sunrise. Catching the full moon setting (Jan 18-20) offers an opportunity to include the moon in your photos. [Jim Robellard's Location Page]
February 2022 Outing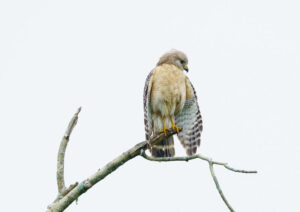 February 12-26 CREW Rookery and Swamp Trail [Slide Show Video]
The Crew Rookery and Swamp Trail offers 12 miles of trails through a former logging area. Birds, alligators and otters are often seen in the swamps here. (MAP). Rough directions from I75: Exit on Immokalee Road East, Travel east to where divided highway ends, turn left onto Shady Hollow Road. Drive west on Shady Hollow about 2.5 miles, parking lot will be on the right. Trail leads off from parking lot. [Jim Robellard's Location Page]
March 2022 Outing
March 18  10:00 AM – 12:00 Noon
Kowiachobee Animal Preserve is more than an education facility. It is a home to more than 130 animals, including big cats, reptiles, amphibians, nocturnal….and many more. We lovingly care for small, exotic, domestic and farm animals. This is not just a job, this is our life and we consider the animals our family.
Established in May 2001. Receiving our Non-Profit 501 (C)(3) status January 18, 2002. We strive to increase public awareness of the steady decline in certain species & exotic and endangered animals. Kowiachobee is licensed by: Florida Fish and Wildlife Conservation Commission and U.S.D.A. The Preserve is located at 2861 4th Ave SE, Naples  (MAP)
Space in this outing is limited, so you will need to sign up for this outing by emailing your NAME  to  dpi-outing@naples.net. All signups will close by March 15. (Note: The March 19 date was cancelled due to a scheduling conflict at the preserve)
DPI-SIG Members will pay a fee of $35 for this outing. Make checks payable to "Kowiachobee Animal Preserve" and present them at the gate on the day of the outing.
If you have questions about this outing, please email dpi-outing@naples.net
April 2022 Outing: Independent Attendance, Two Locations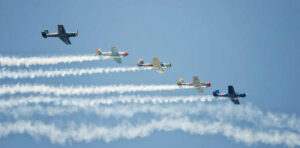 Sun – n – Fun Aerospace Expo Air Show April 5-10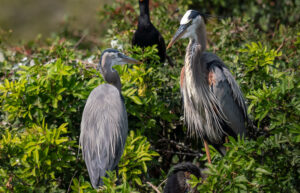 Audubon Venice Rookery
In April, we will again do an independent outing to one or both locations. You can go on your own, or set up a carpool with friends.
The Sun-n-Fun Expo Air Show is April 5 – April 10. Admission is $45 and parking is $10. General info and ticket information is here. (MAP) This is one of the top aviation shows in the country and is the Spring alternative to the Air Venture show in Oshkosh, WI.  Great photo ops of vintage planes, war birds, and general aviation. Go alone, with a friend, or with a group.  Take the family.
The Audubon Venice Rookery is a secluded island in a pond in Venice, Florida. Large birds nest on the island, which is a short distance from shore, offering opportunities for the birds, chicks, and elsewhere in the pond, alligators and turtles. (MAP) Any day during the month solo, or with a group if you want to carpool.  I suggested April 23rd as a club day but it's up to you to make the arrangements. The best times are the golden hours in the morning or afternoon.  I prefer the afternoon as the birds are returning to their nests and I think you can get more separation of subjects.  It's about a 1:45 drive from Naples. Bring a tripod and a long lens.
—
Submitting Photos for Slide Show
We will assemble a slide show video from member images for each outing to be shown at the next club meeting. These videos will be available on the club website, and will be linked to from the "Where to Shoot" page so visitors can see what we found there. Submit images with a maximum of 1024 pixels per side. Email the set of up to 6 images to: dpi-outing@naples.net
2021 Club Outings
Due to the precautions for Covid, outings in 2021 started in October.
October 2021 Florida International Air Show [Slide Show Video]
November 2021 An Evening on Fifth [Slide Show Video]
December 2021 Naples Botanical Gardens [Slide Show Video]